System Description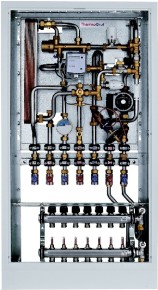 Household heat exchange units (household heat exchange stations – BOST) are an opportunity how to make each flat in a residential building independent in terms of hot water production and heating. This concept is effectively used not only for renovations and new constructions of residential buildings but also for multi-generation family houses. Household heat exchange units provide comfort and are able to provide instant hot water and heating requirements in any season, independently in each flat. Each flat has a separate meter of hot and cold water consumption allowing accurate costs monitoring.
Energy saving
Compared to the conventional concept (central heat supply), the greatest energy saving is achieved by  household heat exchange units by energy saving which represents a heat loss on the route from the heat producer to the residential building. Total energy savings can be 2 to 24 kWh/m2/year.
The concept consists of a single heat source in the house (basement) providing hot water production (primary circuit) for all household heat exchange units that are connected to the source.
UNIVENTA household heat exchange units provide:
contain the PM pressure regulator for precise control between heating and hot water heating
sound- and thermal-insulated pipes
a large plate heat exchanger made of high-grade steel prevents scaling in the system by its structural design
a modular system allows you to make household units with all necessary components
a slight resistance of the household unit – larger pipe dimensions than competitors
interchangeability of spare parts
adjustable circulating pump according to consumption, water temperature or the differential difference
the household unit can be mounted on a storage tank and also directly to a flat
operation via a single button
flow rate up to 40 l/min.